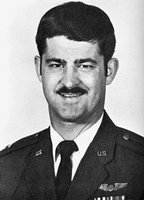 The following articles were copied from the obituary link below to preserve accessibility.
BUTCHER, JACK M.: RIP 11 Nov 2018

Name: Jack M. Butcher
Rank/Branch: O2/United States Air Force
Unit: 20th TASS
Date of Birth: 12 April 1946
Home City of Record: Ann Arbor MI (Born: Berwyn, IL)
Date of Loss: 24 March 1971
Country of Loss: Laos/North Vietnam
Loss Coordinates: 155100 North 1064100 East
Status (in 1973): Returnee
Category:
Aircraft/Vehicle/Ground: OV10A
Missions: 11
Other Personnel in Incident: none

Source: Compiled by P.O.W. NETWORK from one or more of the following: raw
data from U.S. Government agency sources, correspondence with POW/MIA
families, published sources, interviews. 2019

REMARKS: 730328 RELEASED BY PL
SOURCE: WE CAME HOME copyright 1977
Captain and Mrs. Frederic A Wyatt (USNR Ret), Barbara Powers Wyatt, Editor
P.O.W. Publications, 10250 Moorpark St., Toluca Lake, CA 91602
Text is reproduced as found in the original publication (including date and
spelling errors).
UPDATE - 09/95 by the P.O.W. NETWORK, Skidmore, MO

JACK M. BUTCHER
Captain - United States Air Force
Shot Down: March 24, 1971
Released: March 28, 1973

"On my eleventh combat mission over Laos on 24 March 1971, I was shot down.
I was injured in the explosion of the aircraft but managed to eject. Very
soon after landing on the ground I was captured and was detained in a small
camp in Laos for six weeks. While in this camp I managed to escape once, but
was re-captured after only a few hours. While in this camp, I also received
medical attention and regained my health for the trip by foot to Hanoi.

During the trip to Hanoi, I escaped again. This time I evaded for ten days.
I survived by eating some fruit, ants and grasshoppers. I attempted to make
signals in an effort to be rescued. However, on the tenth day, I
accidentally ran into the enemy and was re-captured again. After some rest,
I was again moved toward Hanoi.

During the first week of June 1971 I arrived in Hanoi and was joined with a
small group of men captured in Laos and remained with them in Hanoi until 28
March 1973 when we were released. Three days later I was reunited with my
wife, Dawn, at Wright Patterson AFB."

Although he ejected from a flaming aircraft and received severe shrapnel
wounds in both legs, and although he was imprisoned from March 27, 1971 to
March 28, 1973, Captain Butcher considers himself "lucky." "I was captured
after the bad times," he says, referring to the period from 1965 to 1969
when the POWs were tortured. "I was not beaten. I was not mistreated."

He was graduated from the University of Michigan with a degree in
engineering and a commission in the Air Force through ROTC. He had become
interested in aeronautical engineering and flying after joining ROTC, and
after graduating he received his wings at Webb AFB, Big Spring, Texas. After
six months of training in the OV-10 forward air controlling aircraft, he
volunteered for duty in Vietnam so, as he says, he could be "close to what
was happening." He was sent to DaNang Air Base, South Vietnam.

He plans to spend three months in the Air Force Pilot Upgrading School where
he will be refamiliarized with flying. After nine additional months training
on the F-106 plane, he plans to spend an additional two year tour with the
Air Force.

Captain Butcher has these thoughts to share about America:

"American POWs, in serving the way they did, helped to preserve the freedom
in this country necessary to correct its faults and mistakes.

"I learned a lot in prison camp. I learned what a great country this is. It
was a daily challenge to stick up for it and to love it. And that love grows
and grows."

-------------------------------------
Jack Butcher retired from the United States Air Force as a Lt. Colonel. He
and his wife Dawn reside in Washington State.
~~~~~~~~~~~~~~~~~~~~~~~~~
Jack Butcher Veteran Tribute: http://www.veterantributes.org/TributeDetail.php?recordID=1416
Jack Butcher Obit: http://www.edwardsmemorial.com/obituaries/Jack-Meyring-Butcher?obId=3461206
RRVFPA 02/24/19: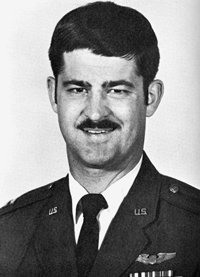 Jack Butcher was born in 1946 in Berwyn, Illinois. He was commissioned a 2d Lt in the U.S. Air Force through the Air Force ROTC program at the University of Michigan on May 13, 1969, and went on active duty beginning June 14, 1969. Lt Butcher next completed Undergraduate Pilot Training and was awarded his pilot wings at Webb AFB, Texas, in June 1970, and then completed OV-10 Bronco Combat Crew Training before deploying to Southeast Asia in February 1971. He served as an OV-10 pilot with the 20th Tactical Air Support Squadron at DaNang AB, South Vietnam, from February 1971 until he was forced to eject over Laos and was taken as a Prisoner of War on March 24, 1971. After spending 736 days in captivity, Capt Butcher was released during Operation Homecoming on March 28, 1973. During his time in captivity, he managed to escape twice; once for a few hours, and a second time for 10 days. He was briefly hospitalized to recover from his injuries at Wright Patterson AFB, Ohio, and then attended F-106 Delta Dart Combat Crew Training at Tyndall AFB, Florida, from December 1973 to July 1974. His next assignment was as an F-106 pilot with the 87th Fighter Interceptor Squadron at K.I. Sawyer AFB, Michigan, from July 1974 to February 1975, followed by Pilot Instructor Training at Randolph AFB, Texas, from February to August 1975. Maj Butcher served as an instructor pilot with the 3389th Flying Training Squadron at Webb AFB from August 1975 to January 1978, and then as an F-106 pilot, Weapons Training Officer, and Chief of Stan/Eval with the 318th Fighter Interceptor Squadron at McChord AFB, Washington, from January 1978 to July 1982. His next assignment was to Air Command and Staff College at Maxwell AFB, Alabama, from August 1982 to June 1983, followed by F-15 Eagle conversion training at Luke AFB, Arizona, from June to September 1983. LtCol Butcher then served as an F-15 pilot with the 22nd Tactical Fighter Squadron at Bitburg AB, West Germany, from September 1983 to February 1986. His final assignment was as Executive Officer to the Commander of the Northwest Air Defense Sector at McChord AFB, Washington, from February 1986 until his retirement from the Air Force on July 1, 1989.

Jack Butcher flew West on 11 Nov 2018.